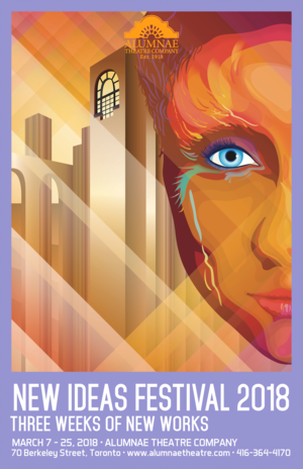 The casting of my play Animal is now complete.  Animal will receive a public reading on Saturday March 24 @ Noon at the Alumnae Theatre as part of the New Ideas Festival – a three week festival of short plays staged and longer plays performed as a live reading.  In the next couple weeks I'll be introducing the actors who will be taking part in the Animal reading.
The above two actors will play mother and daughter in the play.  On my left is Alexandra Milne who has been cast in the lead role of Raina Shepherd.  Raina is a complex character with a full range of intense emotions that are heightened because of her mental illness.  After attending a rehearsal this past Sunday, Alexandra truly inhabits Raina and I expect her to take the part to some wonderfully dark and beautiful places.
On my right, playing the role of the mother – Mercedes Shepherd – is Michele Dodick.  Mercedes is quite a challenging part as she struggles to contain Raina's wild energy by offering tough love.  Mercedes holds a lot of secrets from the family's past and she is constantly challenged by her daughter's erratic behavior.  It was a real pleasure to hear Michele rehearsing the part and hearing my words come to life through her.  I look forward to seeing where she takes Mercedes and how this complicated mother and daughter relationship is further explored.
The creation and development of Animal has happened over many years.  This process can be slow and requires a great deal of patience.  The play has been workshopped with different actors over that time.  Each reading has contributed to a better version of the play.  Animal is at its best place today and yet, there is still work to be done. Liz, my director, suggested a few edits in dialogue after we read the opening scene with Raina and Mercedes.   Rehearsing the script and hearing the actors read the dialogue has opened my eyes yet again to minor pacing issues that require tweaks here and there.   I'll be continuing to edit the play as we work our way through rehearsals. I know at the end of this process, Animal will be in even finer shape.
Next week I'll introduce the two male actors who will be playing the parts of Daniel Shepherd and Griffin Shepherd.  Until then, take a look at the poster of the play: