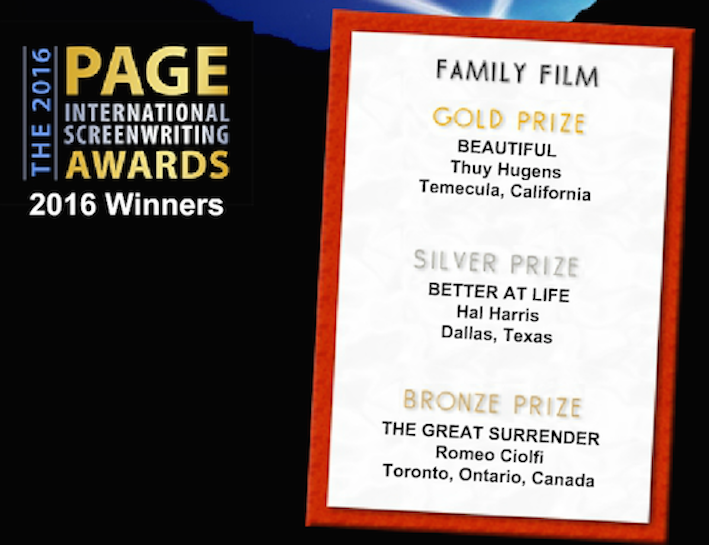 The above says it all.   I placed in the top 3 in the Page International Screenwriting Awards.    There were over 6300 entries, and I was competing in the Family Category, which had approximately 600 entries.  See all the winners HERE.  So my script placed in the top 3 out of around 600 screenplays entered in the family category, which is not a bad deal. And honestly, when it comes down to the top 10, it becomes such a subjective experience that I believe anyone of us could have placed first.
There is some monetary value in placing in the top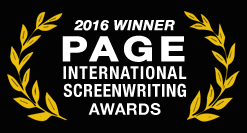 3, but more importantly, the judges are made up of producers, managers, agents, etc who in the next few weeks could request my script. Page promotes the winners and they will be contacting producers, representatives, and industry executives to tell them about the winning screenplays.   So here's hoping out of all of this, something will come about.
Regardless of what happens, The Great Surrender was re-written for this competition and in the end, I have a much better script than the previous drafts. I'm confident that someone, somewhere will want to scoop up this story. There is an important lesson learned here as I continue pursuing this crazy career of writing.   You must keep doing the thing you love until the people who "make the decisions" cannot say NO to you any longer. Do not give them a reason, like in my case, to pass on my script, to not want to read it, to basically reject it. I must keep writing the best script possible so that no matter who reads it, they are left with no choice but to say: We must have this. Make them want you.
And that's what I say to you today…whatever goals you are pursing keep doing it until they cannot ignore you any longer. And if you don't know what "it" is, keep searching because I believe we are put on this earth for a reason. I don't claim to have any great gift, I just happened to find my reason and I won't let it go – I keep at it. I keep writing about a world of broken people, who despite their odds find that sliver of hope that we all desperately yearn, and they live to see the sun rise in the morning.
I hope wherever you are, the sun is rising…and if not today, then tomorrow. Look for the silver linings because it's easy to ignore or miss them.