Main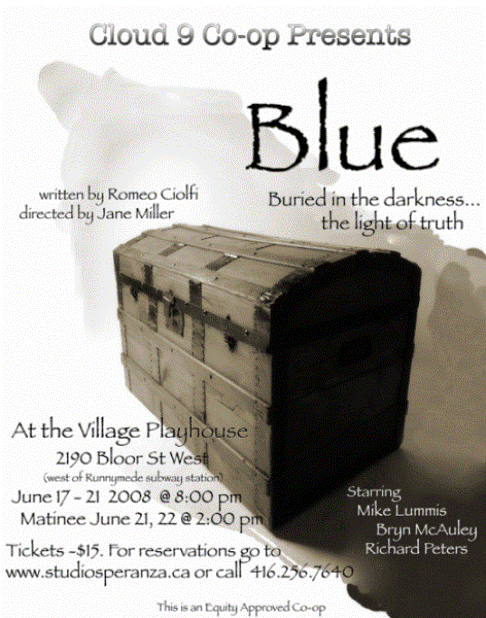 Blue had a successful run June 17-22, 2008 at the Village Playhouse in Toronto. Studio Speranza and Cloud 9 Co-op thanks everyone who came out to support independently produced theatre in Toronto.
Gloria and Adam gather for a celebratory weekend at their brother Joel's cottage. Joel has spent much of his life in the shadow of his siblings – Adam travels as a successful motivational speaker for athletes; Gloria the A-Plus Journalism student, interning in New York. With his first novel, Joel has finally made something of his life. In the course of the weekend, secrets from Joel's troubled past come to the surface. Confessions are made and each one's perceptions of themselves and their family are irrevocably altered. These siblings struggle to sort through their troubled collective past and come to realize that in the light of truth healing is possible and hope survives.
At the Village Playhouse – June 2008
Cast & Crew
Blue's Cast & Crew
Mike Lummis
as Joel.
Mike is an actor/director/writer. He studied theatre at York University where he majored in Directing.Acting credits (theatre): Oberon/Theseus in "A Midsummer Night's Dream" (ROTF), Edmond in David Mamet's "Edmund" (Rhythm), Testicles in "The Comedy of Eros" (Toronto Fringe '02) and Ross in "Macbeth" (Tempest). Mike appeared in his first feature film, "Love… And Other Reasons To Panic" at the Montreal World Film Festival August 2007.
Bryn McAuley
as Gloria
Bryn did her first job as a voiceover actor, playing the role of Caillou at the age of seven. Since then, she has voiced more than 15 animated characters, ranging from that little bald boy to an adventurous toad. In her early childhood, she also acted in feature films. Bryn graduated from the International Baccalaureate Program at Vaughan Road Academy in June 2007. She has been taking acting, singing and dance classes, as well as continuing in her voice over career. Bryn will be moving to New York City in the fall to study acting the fall of 2008. Blue was her first play.
Richard S. Peters
as Adam
Richard Peters has toured for Wycliffe Bible Translators throughout western Canada, worked for Chemainus Theatre on Vancouver Island, Stage Polaris in Edmonton, and Brookstone Theatre in Toronto. In addition to various commercials and student films, he can be seen on screen with such actors as Jean Smart and Joe Mantegna. He is a member of ACTRA, the Canadian Voice Care Foundation and Christians In Theatre Arts. Richard is a graduate of the University College of Fraser Valley's Theatre Diploma Program, the University of Alberta's BFA Acting Conservatory Program. He lives in the Annex with his wife, actress Jane Miller, and their cat, Sowelu. Check out his website at Broken Open Theatre.
Jane Miller – Director/ Dramaturge
Jane directed and dramaturged the solo show "Jane Moffat's Gink" for the Toronto Fringe 2006. She co-adapted "Lake Nora Arms" from the book of poetry by Micheal Redhill with Nightswimming's Brian Quirt, and also composed that play's a capella score. With librettist Vincent De Tourdonnet, she co-adapted and composed "How To Get Rid of A Monster", from Chekov's short "The Bear".
With Nightswimming, Jane has been delighted to be a participant in their on-going play development workshops on projects such as "Blue Note" for the past three years. As a songwriter, her work has been featured on HMV's "Fresh Blood Indie" and C'est What?'s "Local Flavour" CDs. As a vocalist, she has opened for Arlo Guthrie, Ani DeFranco, Jeff Buckley and Moxy Fruvous.
As an actor, Jane has appeared as Speed in "The Two Gentlemen of Verona" for Shakespeare in the Rough, for which she also provided Musical Direction. She wrote, produced and performed her solo show, "Disco Goalie", to sold out houses across Canada, and was nominated for a Dora Mavor Moore Award for her performance in the musical "Shaking the Foundations" at Buddies in Bad Times Theatre. She has taught singing at Humber College and currently coaches singers on an on-going basis.
Romeo Ciolfi – Writer/Artistic Director of Studio Speranza
David Crawford – Production Assistant
David received his Bachelor of Arts (honours) in Theatre from York University, and studied commercial theatre production with Broadway Producer Marty Bell. He interned with Livent Inc. in the Casting Department and with its resident Musical Director Jeffrey Huard on productions of Sunset Blvd. and Ragtime. He recently served as Producer & Managing Director for Brookstone Performing Arts on productionsof Saint Hillaria's, the Lion, the Witch, and the Wardrobe, and the Gospel of John. Producing credits include: Simon Munnery's the League Against Tedium at the Bathurst Street Theatre (Canadian Premiere), Tim Sims' SantaGod (featuring Tony Award winner Lisa Lambert), Ham I Am (written & performed by Craig Lauzon of Royal Canadian Airfarce), Dennis Hassell's The Glory Place (workshop) and Sketchy At Best; a weekly sketch comedy show that ran for 66 weeks at the Tim Sims Playhouse.
David Nicholson – Lighting Designer
David has been a producer, techie and designer at the Village Playhouse as well as other Toronto community theatres and has acted in Whitehorse, Kingston and Toronto. Among his favourite acting roles are: Detective Trotter in Mousetrap, George in Who's Afraid of Virginia Woolf, Oscar in The Odd Couple, Death in Woody Allen's Death Knocks and Joe Keller in Arthur Miller's All My Sons. His prose translation of Molière's Tartuff opens at Toronto's East Side Players in October, 2008.
Waleed Ansari – Stage Manager/Lighting Operator
Waleed graduated from Meadowvale Secondary School where he was heavily involved in drama. He was a writer/director for the Sears Ontario Drama Festival and Studentwrights Festival. He is enrolled at Ryerson University for theatre production in the fall 2008.
Corrie Logan – Sound Technician
Corrie doesn't do this sort of thing often, except for Romeo. He worked as a sound technician at the Stone Church for many years where he met Romeo and where they collaborated on many productions.
Blue's History
Blue's History
Blue  was initially conceived in the winter of 2003 by the suggestion of Tom Carson who at the time was the associate artistic director of Brookstone Theatre.  Once the first draft of Blue  was completed and throughout the rest of 2003, Romeo held informal readings of the play, followed by subsequent re-writes. In Blue's earlier drafts, the play centered around five characters and took place at a cottage front.
In 2004 Blue was presented to Dennis Hassell who was the artistic director and founder of Brookstone Theatre. At the time, Brookstone was going through major upheaval and it was during this time that Romeo met with Dennis to discuss his project.  After reading the play, Dennis made the bold suggestion of cutting two characters out and focusing the plot on the three siblings – ultimately it was their story. He also felt that the story needed more physical action.
A major re-write began and the play took on a whole new structure focusing on the three siblings.  The cottage front remained and two specific prop pieces, missing from the previous drafts, were brought into this setting:  an old trunk and a pile of chopped wood. These two prop pieces created more physical interaction between the characters and provided other avenues to explore theme.
In February of 2005, another reading was arranged through Dennis Hassell and Dave Crawford, with a dramaturge lead by Mellissa Morgan. Actors from Brookstone Theatre participated in the reading which took place at Dennis's house.  A discussion followed the reading and it was clear that the play was taking shape. Dennis's suggestions elevated the script to another level and as a result, the characters were given fuller life and the story a clearer path.
The original intention was that Blue  would be worked under the Brookstone banner.  Sadly, by the end of 2005, Brookstone Theatre had closed its doors for good and left Blue  without a home.  For the better part of 2006, Romeo took a break from Blue and focused instead on a thriller screenplay he was developing called At the Beginning.  It was during the writing of this project that Romeo met his soon-to-be director, Jane Miller.  In the summer of 2006, Jane Miller was invited to a reading of Romeo's latest film script At the Beginning and participated in a workshop following the reading.  After re-working the script, Jane sat in on a second reading and a further workshop. In the fall of 2006, two test scenes were shot of At the Beginning and Jane participated as an actor for one of the scenes. Since that time, At the Beginning has been completely re-written and given a new title, The School.
Screenwriting has been a huge part of Romeo's creative process since his days at York University.  He has vacillated between playwriting and screenwriting since his university days and has written 15 feature length screenplays with many of these scripts having gone on to place in reputable contests in the United States.  Visit Screenwriting to learn more about Romeo's screen writing efforts.
It was during work on At the Beginning that Jane and Romeo began connecting on a more creative level.  In February of 2007 they had discussions of the possibility of workshopping Blue.  After their first reading with a group of actors in April 2007, it was clear that Jane connected very intimately to the core of Blue.  She also proved to be an intuitive dramaturge who guided the discussion with the actors with pin-point clarity.  For a playwright, this was the ideal situation – Jane was as in tune to the characters and their burdens as Romeo had written them.
Throughout the spring of 2007, Jane and Romeo continued to meet with re-writes happening at the same time.  These re-writes focused on sharpening the characters' motivations and flushing out the history of the family's story.  It was during this time they began to talk about the play with the idea of staging it.  In July 2007, another reading was conducted with a new set of actors which Jane had gathered.  Romeo had always been involved as reader in Blue and for the first time, he was able to just listen to his own words.  The experience was very worthwhile.  Romeo was now seeing his play in a whole new light. The discussion that followed proved to both Jane and Romeo that Blue was moving beyond the workshop stage and marching toward a full production.
In August of 2007, Romeo applied for grants from both the Ontario Arts Council and the Toronto Arts Council.  Unfortunately, by the fall of 2007, both councils had turned down Studio Speranza and funds for staging Blue. In December of 2007, Studio Speranza entered Blue into the New Play Contest run through the Toronto Fringe Festival. Blue was also entered into the lottery draw for a 90 minute production in the Toronto Fringe Festival 2008.
On January 28, 2008 the Toronto Fringe Festival held their annual draw.  Blue was not drawn in the  90 minute production slots nor was it chosen in the New Play Contest.  Although both results were disappointing, Romeo and Jane decided that in order for a staging of Blue to happen, they would have to go out on their own, but not before another re-write was suggested.  Jane had given Blue to Brian Quirt of Nightswimming. Brian is one of the top dramaturges in Toronto. Although he felt Blue was a strong script, he suggested the play needed  another re-write shifting some of the focus.  With that in mind, Romeo embarked on another re-write in the months of February and March.
In late March 2008, Romeo and Jane held several readings on the new draft of Blue.  Actors were brought in for one of the readings and further discussions followed.   By April of 2008, Blue was cast and  rehearsals began in May.  On June 17th 2008  Blue had it's world premiere at the Village Playhouse in Toronto, Canada.
In The News
Online Articles: