Main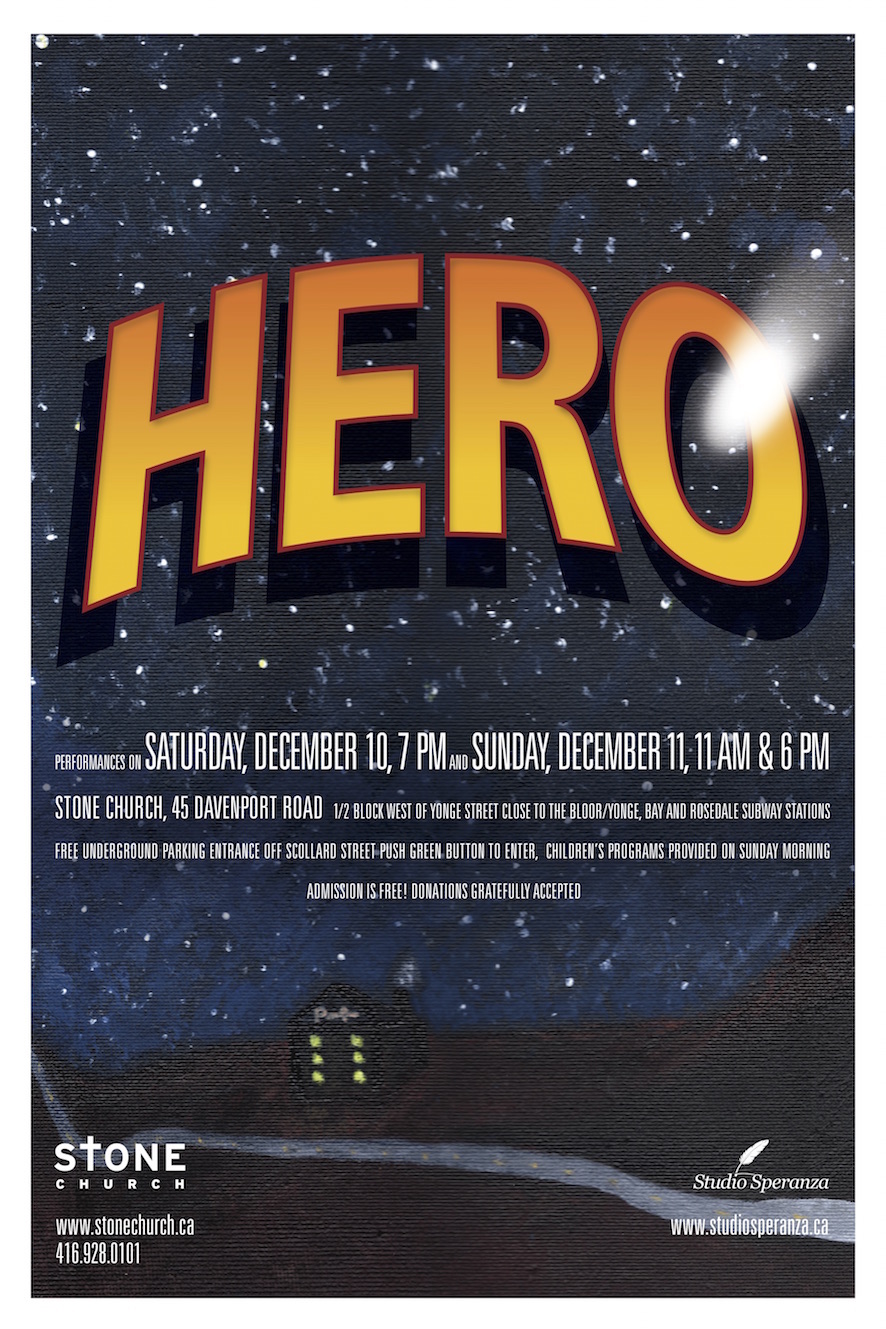 Synopsis
Christmas Day.  Wedding bells.  A comic book.  An inn.  A child's wisdom.  Love.  Birth…..A Hero.
When Jarrett Chilton and his mother Sarah arrive at Patience Inn on Christmas, little do they know how their lives will change forever.    During their stay, they cross paths with the owner of the inn, people from a wedding party and other strangers who find themselves stranded.  As the day unfolds, family bonds are tested, secret pains are revealed and the wisdom of children prevails.
In Hero, fears must be conquered and risks must be taken while a child's comic book sheds light on the meaning of hope:  Do not be afraid.  I bring you good news of great joy.
At the Stone Church – December 2011
Cast & Creative
Cast

From Left to Right – Top Row: Alisha Elford,  Douglas Hurst,  Lina Balsamo,  Joe McAvity, Romeo Ciolfi,  Maureen Rezkalla
Bottom Row: Ashley  Alagurajah, Cecilia Williams, Eric Day, Lisa Ciolfi, Jonathan Dell
Cast of Characters
Jarrett Chilton…………Eric Day
Sarah Chilton……………..Lisa Ciolfi
Horace Chilton…………..Joe McAvity
Laverne Stone……………Maureen Rezkalla
Thomas Stone……………Romeo Ciolfi
Mark Stone……………….Jonathan Dell
Willow Bay……………….Lina Balsamo
Dora Diaz…………….Ashley  Alagurajah
Isabel Diaz………….…Cecilia Williams
Patience Everley………Alisha Elford
Jordan Pierce…………..Douglas Hurst
Creative
Written & Directed by Romeo Ciolfi
Stage Manager – Leslie Ann Walcott
Set Design – Arthur Wrigglesworth
Related Blog Entries
Related Blog Entries
Child Actors – Hero opens in just over 3 weeks.
Deadlines – Now the focus turns back to Hero… (not that it ever left).
The Lady Wins – I am a month into rehearsals for HERO, a Christmas production…
Struck – This week, I began rehearsals for Hero, the new Christmas production…
A Hero Has Landed – Hero is complete.  I put the finishing touches on this latest play that will run Dec 10 & 11.