Main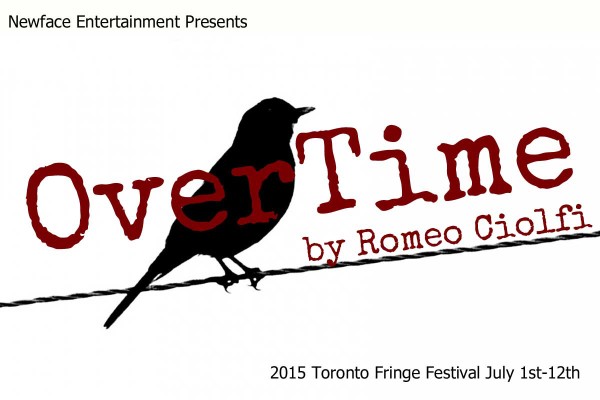 OverTime – a new 90 minute drama on stage at The Robert Gill Theatre, 214 College Street (St. George & College, East of Spadina)
Performance Schedule
Thursday July 2nd: 8:15pm
Friday July 3rd: 8:45pm
Saturday July 4th: 7:30pm
Monday July 6th: 3:00pm
Tuesday July 7th: 1:00pm
Wednesday July 8th: 2:00pm
Saturday July 11th: 10:30pm
(running time is 90 minutes)
Tickets are $12 and are available starting June 11:
– online at www.fringetoronto.com
– by phone 416–966-1062
– in person at the Festival Box Office in the Fringe Club (behind Honest Ed's) up to 3 hours before the start time
At the door tickets are $10, cash only and sold on a first-come, first-served basis and can be purchased at the Robert Gill Theatre up to 1 hour before the start time.
Cast & Creative
Cast
Creative
STAGE MANAGER:  Sara Allison
SET DESIGNER:  Mariuxi Zambrano
COSTUME & PROPS DESIGNER:  Farnoosh Talesbpour
LIGHTING DESIGNER:  Jennifer Jimenez
COMPOSER & SOUND DESIGNER:  David Mesiha
Synopsis of Play
Darby, a young playwright lives with his mentor Carla – a 63 year retired teacher who suffers with various ailments.   When Darby shares his latest play it strikes all too closely to his mentor's life.  Carla accuses him of stealing from her life.   Tension escalates following Darby's chance meeting in a park with Jewel, a feisty 21 year old photographer.  He invites Jewel to the house and Carla becomes immediately threatened by her presence as secrets and lies unravel.  Things come to a breaking point, when Jewel's reluctant father, Linus, a hockey coach, shows up and Carla is suddenly confronted with a painful past which ties her intimately to Linus – a past she wishes to bury forever.
OverTime asks the question, is it ever too late to face deep, hidden wounds from long ago?  Can hope be allowed to live in the light of harsh truths and second chances?
In the vein of Tennessee Williams and Arthur Miller, OverTime explores the lives of four broken individuals who are trapped and desperately need to break out of the shackles that have held them back.