main
Thirsty Trailer
Synopsis
Water.   Monopoly.  Imaginary Friends.  A Christmas Tree.   Secrets.  Lies. Courage.   Travis Weir has a lot on his mind.   He's different than most kids       and retreats to a forest near his house to get away from it all.  One day in this forest, Travis meets a new friend and is given insight about how living in the truth makes you a remarkable person.  With his birthday just 2 days before Christmas, the present he seeks most this year is to unearth the truth behind his life.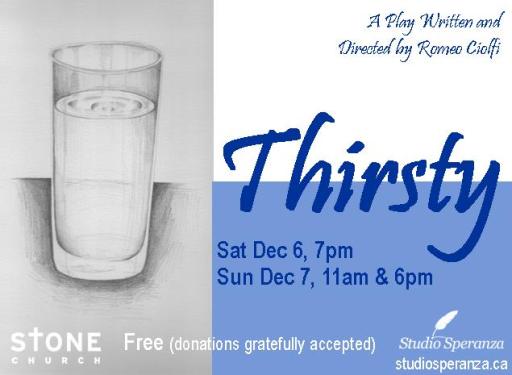 Performance Dates                                   The Stone Church
Saturday, December 6 @ 7pm                               45 Davenport Road
Sunday, December 7 @ 11am                                 Toronto, Ontario
Sunday, December 7 @ 6pm                                   416-928-0101
Directions to The Stone Church click here.
Cast & Creative
Cast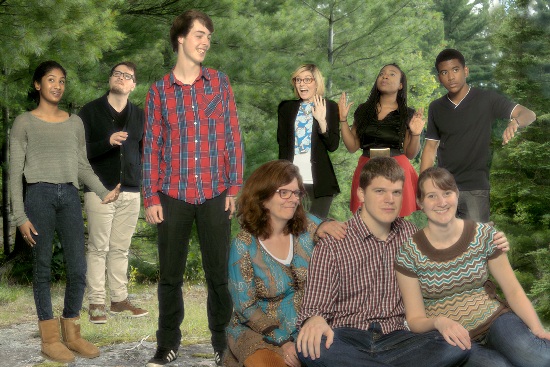 TRAVIS WEIR……. Ryan Mackinnon
KERRY WEIR……. Ruth Roblin 
LEO WEIR…….. Stuart Jantzen
PEACH WEIR…… Rebecca Jantzen
SASHA YOUNG…. Ashley Alagurajah
GLINDA……….. Charnelle Magumbe
ANNABEL………. Amber Hickson
DUSTIN……..Gianni Murphy
EVANGELIST, DJ, WEATHER MAN, PUPPETEER…Scott Malloch
Creative
Written & Directed by Romeo Ciolfi
Original Music by James MacKnight
Choir Director, Theresa Simmonds
Stage Manager, Leslie Ann Walcott