You know the saying… "The thrill of victory.  The agony of defeat".  The above video says it all. Recently, in game 7 of the Stanley Cup Conference Final, the Pittsburgh Penguins played the Ottawa Senators. Each team had won 3 games…the winner of game 7 would go onto play in the Stanley Cup Final.
Game 7 went to overtime and in the above clip, early on in the 2nd period of overtime, Pittsburgh player Chris Kunitz, scores the game winner.   Getting to the Stanley Cup final is a brutal journey. It is probably the hardest championship to win in professional sports. For those who are not hockey connoisseurs, it requires a team to beat 4 teams and win 16 games to get the cup.   When Ottawa lost game 7, afterwards they felt the sting of defeat, yet held their heads high. But on the ice, that night, the players devastated reactions are palpable compared to the utter jubilation of the Penguins.   It is a hard, hard pill to swallow. To be defeated, in a 7th game and in overtime to boot, is heartbreaking.
You do not need to be a hockey/sports fan to appreciate the life lessons here about defeat and how one must move forward.   This past year I've received some of the best reviews on several of my scripts from producers, readers, competition judges and in many cases I advanced closer to getting another script optioned or winning the top prize (as an aside, currently, The Great Surrender is being read by 2 producers and the script has advanced into the semi-finals of the Diverse Screenplay Competition).
I know the word defeat, but I remain in the game. And even though the Ottawa Senators lost in a brutal overtime game, they will be back next year…and likely they will be back stronger and better and having learned valuable lessons about what it takes to get to a final.
Do you have what it takes? Most often, it has less to do with talent and more to do with guts, heart, determination and timing. I'm reading a book from author Elizabeth Gilbert called Big Magic about living a creative life. Elizabeth talks about how when she started out as a writer, she sent out a short story called Elk Talk to a publisher who gave her the nicest rejection letter. This publisher wrote a glowing review of Elk Talk, but she felt the ending didn't quite do it for her (sigh…there's always a BUT in a rejection). YEARS LATER, Elizabeth became a successful author and now had an agent. One day, her agent told her that her short story Elk Talk will be published and it turns out the very publisher who rejected her years ago is now going to publish her story. This publisher clearly had no recollection of having read the short story and when Elizabeth asked her what she thought of the ending, the publisher said she adored it.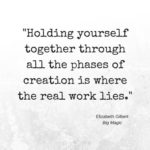 So years ago, Elizabeth Gilbert (like the Ottawa Senators), lost in "overtime". Even though Ottawa played a GREAT series and was oh so close to the final, they did not cross that line (and Elizabeth initially never got published even though she had GREAT reviews). But she stuck with the writing and the Ottawa players and coaches after losing that overtime game, in interviews, express how they are doubly motivated for next year and going all the way to the cup final.
Yes, rejection, losing, they have a way of knocking you down.   I cannot tell you how many rejection letters and competitions losses I've had over the years. I have felt the agony of defeat, but I will not surrender, because if I do, I will never know if I could have reached that mountaintop (PLUS, it helps that I love what I do).
Find your love and stick with it. Like a good marriage, it takes work and it's not always fun. Most of all don't be defeated by defeat.   These are character moments. Embrace the defeat. Learn from it. Move on. Some of the greatest characters are built and come from arduous journeys.  And maybe, just maybe, one day…you'll score that overtime goal.