Main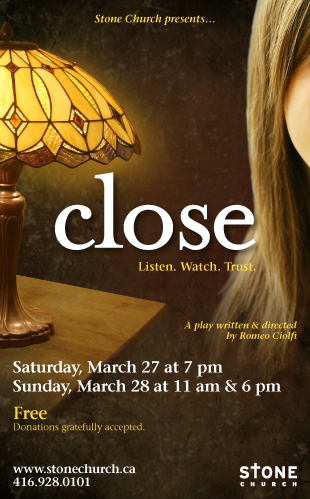 Synopsis
Close tells the story of a teenage girl named Madeline who has locked herself in her parents' basement and refuses to leave until she gets answers about the turmoil her family is going through.  Her mother Martha begins to worry about her well-being.   Madeline is hearing voices and seeing images.  Is she merely dreaming, having visions or losing her mind?   Close explores a profound encounter, family dynamics, and the idea that courage is not the absence of fear but the willingness, despite the fear, to stand firm and be counted.
At the Stone Church – March 2010
Cast & Creative
Cast & Creative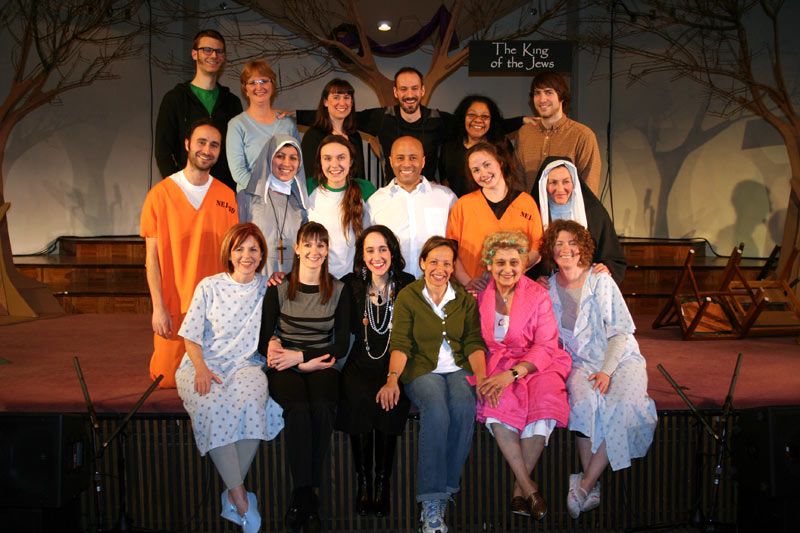 Cast
Madeline…………Lauren Clarke
Riley Spiridon……Douglas Hurst
Martha……………….Wendy Sasso
Ingrid…………….Amanda McKay
Dorothy……….…Linda Lyons
Agnes……………..Elaine Lai
Robin………………Alisha Elford
Ashley…….………Walter Kofman
Julia………………..Lisa Ciolfi
Miss Chambers…..Josie Beylerian
Rose……………….Karen Coles
Deanne………..….Anita Hayhoe
Written & Directed by Romeo Ciolfi
Related Blog Entries
Related Blog Entries
Close is close – Two rehearsals left and Close is ready to go.  The cast is gelling and in this past week as they have grown more comfortable with their lines and character, I'm seeing new things flourish.
Film, Theatre, Writing – Speaking of Close, this theatrical production has been in rehearsals for just over three weeks and the play is slowly piecing together.  Close also has two original songs written by me and scored by Maire Slater.
Fear & Defeat – Rehearsals for Close are in full swing.  It was most gratifying to sit through the first reading and hearing the words come to life.   For several weeks, these words were banging around in my head and it is a great relief to finally share it with others.
New Year, New Scripts – With the New Year, brings the creation of a new script.  For the last two years I have been working on seasonal productions that take place over the Christmas and Easter Holidays.  Today, I have just finished an Easter script that will be performed on March 27, 28.  It is a very rough draft, but the basic story is complete.  Now the task is to mold it into something better.