main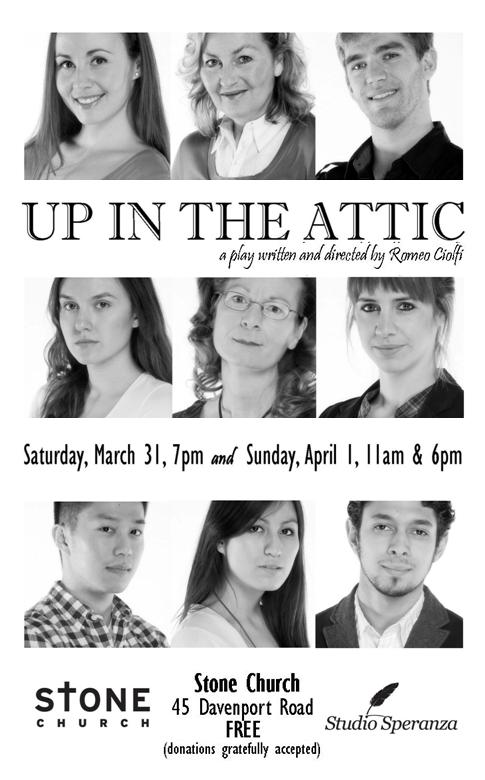 Synopsis
Hannah Walker and her ailing sister Victoria have recently come home to help their mother Leah pack up the family home.  The Walkers have sold their house and are moving… but in more directions than they realize.    Looking for some peace and quiet to work on her final thesis, a play on the topic of passion, Hannah has ventured to a room in the house that her mother has kept locked for years…the attic.  It is through the act of writing, her sister Victoria and Aunt Naomi – a whimsical adult with a child-innocence – that Hannah begins to unpack truths about her mother's life.   Who is Leah Walker and what is she hiding about her own parents?  Buried secrets and lost faith reveal a past that is about to collide with the present when it's discovered what's up in the attic.
At the Stone Church – April 2012

Cast & Creative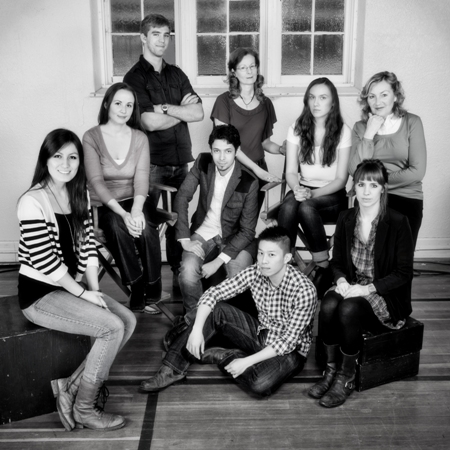 Cast
Abigail Page……….Amanda McKay
Daniel Page……..…Lorne Anderson
Naomi Page………..Linda Lyons
Hannah Walker……Lauren Clarke
Victoria Walker……Jacqui Compayre
Leah Walker………..Susan Lock
Mary……………….……Elaine Lai
Bartholomew……….GeorgeSantos
Simon Peter ………..Brian Yee
Creative
Written & Directed by Romeo Ciolfi
Stage Manager – Leslie Ann Walcott
Music by Máire Slater, David Stone and Regie Taruc
Set Design by  Arthur Wrigglesworth
Related Blog Entries
Why I write… –  I was the last person to leave the stage last night after we wrapped up the dress rehearsal of Up in the Attic.
Music – The time is moving fast.
Half-Way Point  – Up in the Attic has been in rehearsal for a little more than a month.
Results Are In… – The original title of this production was PASSION and since I finished the re-write and began rehearsals over 2 weeks….
The Kairos Prizes, 2012 –   Passion is the title of my upcoming Easter production. I am just putting the finishing touches on the script and we begin rehearsals in less than a week.
Pacing – I'm doing a lot of pacing these days…which means I'm writing a new script.